Generators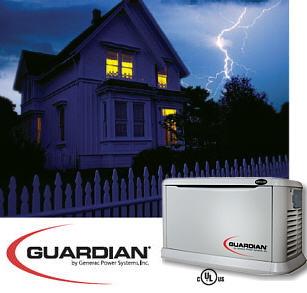 Power out? Try our POWER OUTAGE EXPLORER to discover more: Power Outage Area

No more worries about blackouts, brownouts, or weather related outages.

Just peace of mind that 24 hours per day, 7 days per week, your home an family are protected against electrical failure.
24/7 Blackout Protection
Hands-Free Operation
No Manual Starting or Refueling
Permanently Installed
Runs on Natural Gas or LP Gas
Automatic Standby Generator






Because we offer the best value in the industry. Only GUARDIAN has the features you need at a price you can afford. With our pre-wired, pre-packaged solutions, we extend your cost-savings even further by making our systems the absolute easiest to install. The patented, WhisperTest low-speed exercise mode offers quietest operation in its class. Generac's OHVI® industrial grade engines - designed specifically for generator applications - feature long run times of standby power. That, coupled with our best-in-class motor starting capability and our improved enclosure design, illustrates why America prefers GUARDIAN.

Automatic Power Protection - The Best Just Got Better

Today's house is larger and has more power-consuming devices than ever before. Generac's engineers answered the need for more backup power with a new GUARDIAN lineup that has the most powerful generators, best-in-class power quality and the broadest range to fit any size home.