Service Upgrade

An electrical upgrade helps to ensure that your electrical system is equipped to meet your energy needs and protect your family and property. Upgrading or replacing important components can help prevent electrical emergencies before they occur.

Are you using a number of extension cords or power strips, thats a sign that you don't have enough outlets and may be overloading the existing system.

Is your home over 30 years old? If so it was built before most of today's electrical appliances and gadgets were even invented. The steady increase of consumer electronic use and home energy consumption means that the electrical systems in many older homes can easily become overloaded.

Harmon Electric can perform an electrical inspection your home's electrical wiring and distribution system to determine what your exact electrical needs are.
What we can do:

Service Upgrades
Meter Base Repairs
Meter Base Replacements
Service Mast Repairs
Replace Weather Head
New Grounding Systems
Whole House Surge Protection Devices
Mobile Home Pedestal Replacements
Apartment House Gang Meter Repair
Apartment House Gang Meter Replacements

An electric service upgrade is often recommended or required to increase the capacity of the existing electrical service. With all the new appliances and technical devices we now have in our homes, we find that older homes just don't have sufficient power available to handle the increased demand. Therefore, a "service change" is required. This may include not only upgrading your electric panel, but upgrading your meter socket, the wire between the meter and panel, the wire between the utility and the meter and the grounding system as well.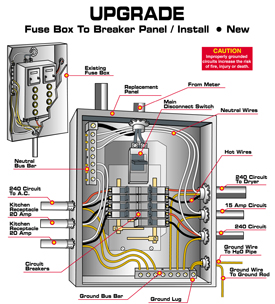 Do your lights flicker?
Are your breakers constantly tripping?
Do your fuses blow regularly?
Does your panel box make a crackling sound?
Are your electrical service conductors overheating?
Are you renovating your home or making an addition to your home?
Did you add a sauna or a hot tub?
Do you use a 60 amp electrical service?
Do you use a 100 amp electrical service?
Do you need more outlets?
Does your Homeowners Insurance require that you make an Upgrade?
Do you use multiple extension cords?
Do your appliances run on less than full power?
Do you require a 240v circuit?
Do you need to add a sub panel?
Do you need a power surge arrestor?
Are your outlets two pronged (non-grounded)?
Do you have the required Ground Fault Interrupter (GFI) in your Kitchen and Bathrooms?
Do your bedrooms have Arc Fault Circuit Interrupter (AFCIs)?